Few things are as thrilling as taking your campervan out for an adventure, as it allows you to get close to nature and experience life differently. However, if your adventure takes you to places with freezing temperatures, it's a smart idea to invest in a heater that can keep you warm and comfortable. It also means you can venture into areas you wouldn't go without a heat source, so the world is your oyster.
If you want to upgrade your campervan, add a heater. With so many on the market, we evaluated the best heaters for campervans in ways that will help you understand the pros and cons of each model.
What Type of Campervan Heater Is the Best for Me?
There are different types of campervan heaters, so you should choose one that suits your van and your travel lifestyle. 
12V Electric
These electric heaters are eco-friendly and easy to use because you don't have to worry about keeping a gas supply on hand. They take a lot of energy, which is fine when you dock but can quickly drain a battery when you're off the grid.
These heaters come in many styles, like ceramic, tower, and infrared. They're portable and easy to store during the off-season.
Gasoline and Diesel
One of the most significant advantages of using gasoline and diesel heaters is that you can fill them up when you get gas for your vehicle. Many travelers also have gas stoves in their campers, though you'd need to understand how to fill the appliance and use it properly.
The downside of this type of heater is that you must be very careful regarding safety. Using gas in an enclosed space creates fumes that can harm you, so you should install a carbon monoxide detector. You should also keep a close eye on the heater when in use to ensure the gas doesn't leak.
Propane
Propane is an affordable option, though you need to consider the added weight of the tank to your van. As with gasoline, you need a carbon monoxide detector in your campervan for the utmost safety. Since the heaters create condensation, you must ventilate your van during use.
Wood Burning Stove
A wood stove is a cozy addition to your campervan. You can chop your own firewood or buy it on the road, so it's easy to maintain. However, the initial setup takes more work than the other heaters on this list; installing a vent pipe and chimney cap for safety takes time and money.
Review of the Best Heaters for Campervans
In addition to the various types reviewed above, there are also great brands producing specific models. This list includes the best heaters for campervans available now, so you're sure to find one that suits your vehicle and travel style.
1. Proheat X30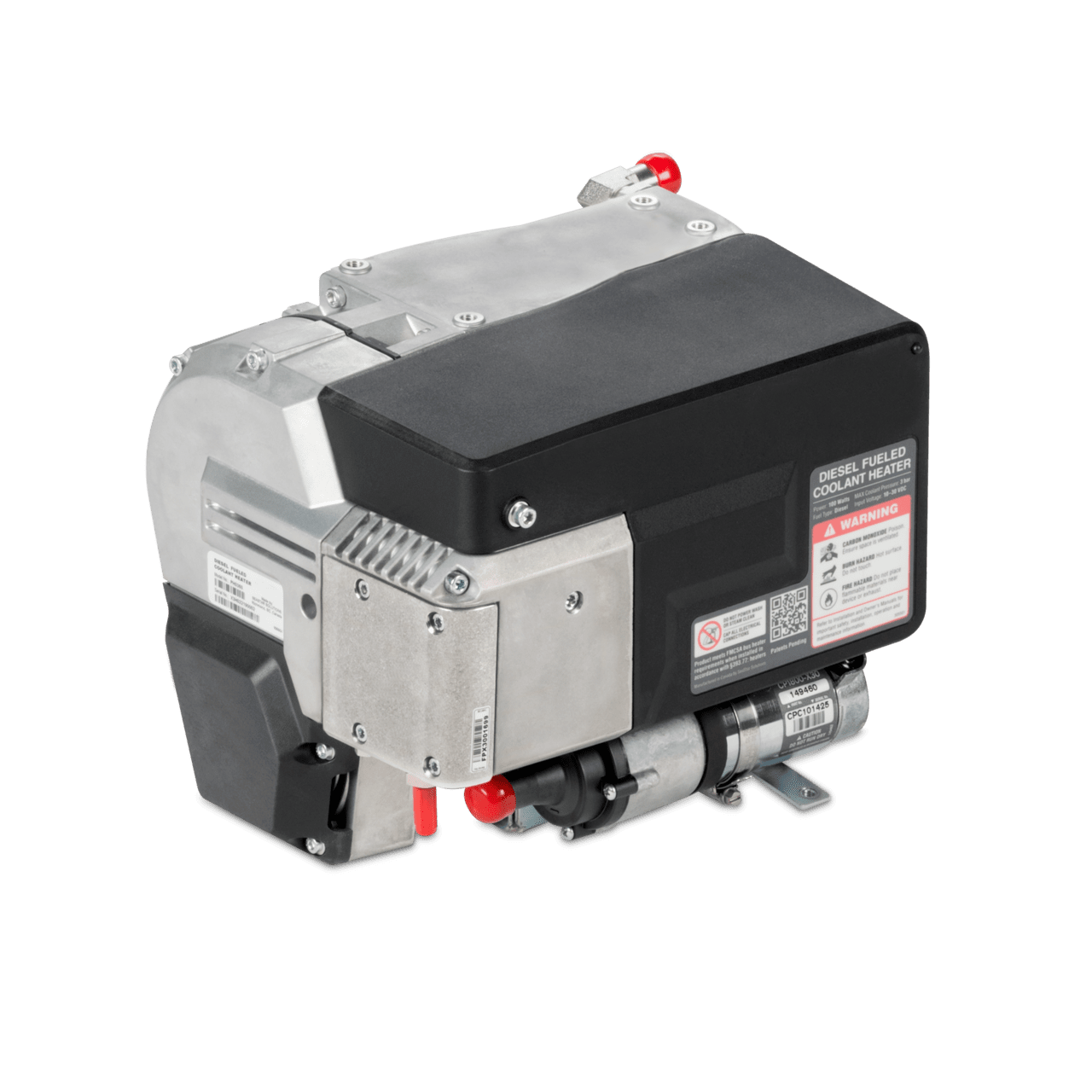 The Proheat X30 is at the top of the list because it provides over 30,000 BTU of heat every hour, ensuring your campervan reaches its ideal temperature quickly and maintains it with little effort. You don't need to idle your engine to use it, so you save money over time regarding your campervan fuel.
However, you pay more upfront for this heater, which is the most expensive option on the list. With that expense, though, you get many benefits you won't find with other heaters. For example, the machine can use between 10 to 30V and will self-select the best option when you plug it in.
The heater is reliable enough to heat your campervan's equipment for a cold start while also warming the vehicle's passenger area. The closed-loop combustion control keeps your van safe while the heater runs. Because of the heater's function, versatility, and lifespan, it's the best option you'll find on this list.
Pros
Uses between 10 to 30V, self-modulated to suit the area

Runs quietly with adaptive smart controls for usage

Has closed-loop combustion control for safety
Cons
Most expensive option on the list
2. Mr. Heater F274830
The Mr. Heater F274830 has a compact design but heats up to 450 square feet, making it perfect for mid-sized to large campervans. Once your space reaches the ideal heat, this device maintains that level for the utmost comfort so you can relax and enjoy your spot.
In terms of safety features, this heater shuts off if it tips over or reaches low energy levels, so you don't have to worry about it starting a fire or burning up all your propane. You can either connect two one-pound propane tanks or a larger external source, though you need to buy extra gear to make that connection.
This heater is quiet when running, so you don't have to worry about loud noises in your small space. It also has very low emissions, which protects your air quality. However, it burns through propane rather quickly, so upkeep can get expensive if you often travel to cold climates.
Pros
Has three heat settings

Automatically shuts off when it falls or reaches a specific temperature

Very portable and easy to fit into the campervan
Cons
Burns through propane quickly, making it expensive to use
3. Bovado Oscillating Space Heater
The Bovado Oscillating Space Heater is a favorite pick because it's easy to use, with accessible knobs on top of the device. It produces enough heat to warm your campervan in minutes, and you can adjust the thermostat and fan to your specifications. It's so compact that you can keep it on board year-round, so you're always ready for a cozy evening in any climate.
While it's a great heater in terms of how compact and easy it is to operate, there's no safety feature in place if it tips over. While it does have a shut-off to prevent overheating, the heater can fall over and continue producing heat, which is a fire risk. If you use the Bovado Oscillating Space Heater in your camper van, stay close when it's running.
The heater uses electricity, so you'd want to book campsites to use it overnight. Anyone who likes to travel off-grid will need to consider another option from this list.
Pros
Compact and portable

Straightforward operation

Automatically prevents overheating
Cons
4. Car Cozy 2 - 12-Volt Heated Travel Blanket
The Car Cozy 2 - 12-Volt Heated Travel Blanket might seem like an odd choice to include on a list of campervan heaters. However, this device is one of the most affordable and warmest options, especially if you're a solo traveler or adventure with a partner; there's something incredibly cozy and romantic about cuddling under a heated blanket.
Like heated blankets you may be familiar with from your home, this one uses electricity, so that you can plug it into your 12V outlet. The blanket itself is polyester fleece, providing an additional layer of warmth and comfort. It's really soft, so you can use it as a blanket even when you don't need to plug it in for extra heat.
When you use this blanket at night, you can set the time for 30 or 45 minutes so you'll be warm while you fall asleep without risking any burns or electrical accidents throughout the night. While this option won't heat your entire campervan interior, it's a warm and cozy option to keep on hand.
Pros
Portable and affordable

Has a timer and automatic shut-off

Plugs into a 12V outlet
Cons
Only warms you, not the van's interior
 5. Webasto Airtop 2000 STC Diesel Heater
The Webasto Airtop 2000 STC Diesel Heater is the best option for a serious traveler who wants a reliable heat source for their campervan. It uses hardly any fuel while producing an impressive level of heat. You can set the thermostat so the heater reaches that temperature and then works to maintain it while you travel.
It's already the second-most expensive heater on the list, but when you consider that it might require professional installation, you'll end up paying more before you can use the appliance. Although the kit includes everything you need to set this heater up, you might prefer the added security of a professional taking on the task for you.
Pros
Low maintenance costs

Kit includes all necessary supplies

Can handle low temperatures
Cons
Might require professional installation
6. Lasko CD08200 Small Portable Ceramic Space Heater
This Lasko CD08200 Small Portable Ceramic Space Heater is an affordable option for anyone who wants a compact heater. It's affordable and lightweight so it won't slow down your campervan compared to larger models. Since it only has one control button, it's easy to use and adjust to your chosen temperature.
It uses an ALCI plug, making it safer because it shuts off in case of a short. You can even use this ceramic heater in a wet or humid area without worrying about the water because of the ALCI plug. Despite this security feature, the heater won't shut off if it tips over, so you should always be nearby when you're using it.
When you turn on the heater, you can set the temperature and leave it alone because the machine manages the rest, making it energy efficient. You can also set a timer to shut off after an hour, ensuring your campervan gets warm enough. 
Regardless of your chosen temperature, the heater is always cool to the touch so that you can use it safely in smaller spaces.
Pros
Has a self-regulating ceramic heat element

Special ALCI plug prevents electrocution

One button controls all functions
Cons
7. Camco Wave 8 Catalytic Heater
The Camco Wave 8 Catalytic Heater is a unique addition to this list because it uses flameless technology to radiate heat in small spaces. It uses low-pressure fuel, so you don't need to plug it in or use a battery to turn it on. Since it radiates heat in spaces up to 290 square feet, it doesn't use a fan or blower, so it's a quiet option.
The heater is so compact that you can use it in the smallest campervan and still get plenty of heat. One key to getting the most from this appliance is to insulate your van well. That's good practice anyway, but it makes a big difference in terms of this heater's efficiency. If you park in a cold climate and don't have enough insulation, this heater won't change your temperature.
Anyone wanting to heat a small space without the noise of a traditional heater with a fan will love the ease of the Camco Wave 8 Catalytic Heater.
Pros
Energy-efficient flameless technology

Safety shut-off

Functions quietly with no fan
Cons
Can't handle low temperatures
Buying Tips for the Best Heaters for Campervans
Whether you choose one of the models above or want to shop around, you need to know what to look for in the best heater for your campervan. These qualities are crucial, so you want to ensure your final choice hits the mark.
Heating Capability
The most important aspect is the heating capability. If you get cold or want the ability to travel to snowy locations in winter, you don't want to waste money on a weak heater. A 5,000 BTU heater can raise the temperature of your campervan by five degrees an hour. That could be enough if you only need some warmth on chilly nights. Otherwise, aim for higher BTUs.
Energy Source & Usage Time
Some people don't want to deal with propane while they travel, while others don't want to worry about gassing up the heater in addition to the campervan. Electricity is the most accessible option; however, it will drain batteries when you're off the grid. These factors all impact your travel efficiency and the usage time of the heater.
Durability & Storage
You only need the heater when you travel in cold temperatures, so you might want a model that's easy to store in the off-season. However, you want to choose something durable so you don't need to buy a new heater every year.
Material
The heater's material can impact its weight and efficiency. You want to choose something that's durable but won't drag down your campervan.
Safety Features
You want to ensure safety when you travel, so you don't want a heater that will go up in flames. Safety features like ceramic plates and automatic shut-off switches ensure there's no risk of an accidental fire in your campervan.
The Best Heater for Campervans – Our Verdict
Campervan heaters come in many different styles, including electric, gas, propane, and wood-burning. All methods produce adequate heat to keep you warm and cozy on a cold night, so the choice becomes harder to make at that point.
There are plenty of quality heaters for campervans out there; even our list can only narrow the field to seven amazing options. Your final choice will depend on your campervan needs and specific travel style.
However, with that said, there's a top contender on this list. If you're open to any type of heater, the Proheat X30 is the best choice. While it's an investment, it's more reliable than the other heaters on the list. You don't have to worry about propane or gas because it can use any voltage from 10 to 30.
Providing heat to your campervan can make the difference between cutting a trip short due to weather or trucking on to unexplored cool climates. When you have the best heater on board, you have more freedom to explore the world. Add a heater to your campervan today to stay comfortable while you see the sights.
---